...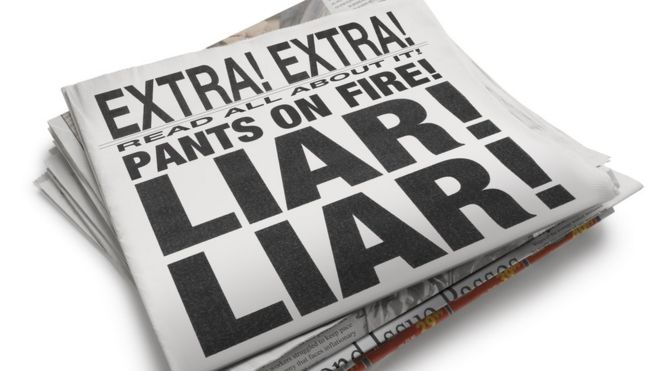 But hey, you can go ahead and read it if you want
Fake news. It first came up in the campaign as a term to describe the articles Eastern European trolls would post on social media. They were designed to look like regular online news outlets, but they had outrageous headlines and utterly false stories designed to accumulate clicks and go viral across the social media ecosystem. A large portion of the American electorate, having become accustomed to dishonest outlets like Fox, Drudge and Limbaugh, were more than happy to accept any story that reinforced the beliefs they already held. This time around, however, that process was accelerated and deepened by a large number of Bernie Sanders deadenders who were more than happy to click, share and forward anything they perceived as damaging to the Hillary Clinton campaign - no matter how tendentious and nonsensical it might be.
Now you had these fake news stories being blasted around the internet by both the far-left and the far-right, and as a result no matter which faction you identified with, you could find people you wanted to trust telling you things you wanted to hear. It was clumsy, and often stupid, but over time it had an effect - not only convincing individuals but keeping various narratives alive in the more traditional media outlets due to endless, heavy daily interest.
Now, after the election, it's not a big factor anymore. Except that with the entrance of the term 'fake news' into the common vernacular, it has become synonymous with 'any news I don't want to believe'. The Trump administration in particular has embraced the concept. They've been questioning the reliability and credibility of major news outlets for months, so it's now easy for them to label stories they couldn't otherwise deny or avoid as 'fake news' and claim that it is actually THEY that have the credibility.
All this happened, and it was a problem. But we all know that if we WANT to, we can easily identify genuine fake news by using the available sources to confirm what we're being told. Of course, there are still a LOT of Americans who don't want to check the veracity of a story they like - they'd rather just believe it and forward it to all their friends,. But there's another kind of fake news - and it's a much bigger problem for the professional news media themselves.
We have a President and and administration that lies constantly, and glaringly. They don't obfuscate, they don't dissemble, they LIE. They make up facts to support any policy goal or ideological contention, whether they need to or not. They don't care about being fact-checked, they don't care about being directly called out on live television. They get their chosen narrative out there, and they know that there is a constituency that will believe it. They use this method to discredit institutions like voting and the courts. They use it to spread fear of crime and terrorism. They use it to constantly fluff the ego of our sociopath in chief.
Now it's true that political leaders have lied since time immemorial. But this time is truly different - it's so relentless, so unapologetic, so easily debunked that it can't be whitewashed or shrugged off. Now we have all our major media outlets routinely pointing out one blatant lie after another coming directly from the president and then repeated by his cabinet and communications staff. From millions of 'illegal' votes to the worst murder rate in 47 years, this is simultaneously embarrassing and toxic. And it raises an important question.
What should journalists and news outlets do? Should they allow these people to come on their air and look into the camera and lie repeatedly and outrageously to their audience? They haven't developed a methodology for pushing back on the lies - nothing works, they just keep repeating the lies and doubling down, claiming to have 'evidence' to support them. Evidence we never see. Or should they adopt some kind of 'three strikes and you're out' rule? Perhaps they should announce that anyone who comes on their shows and tells a cumulative total of three clear, easily established lies will not be invited back.
Or is there some other approach new outlets could take? Print journalism is easy - they can include the quotes and the fact checking in the story together. It's really the television and the radio where these lies get out into the wild and can never be truly called back. But in the Trump era, journalists and media outlets are going to have to figure this out. Because the rules have changed, and they can no longer do their jobs if they don't find a way to adapt.
...