...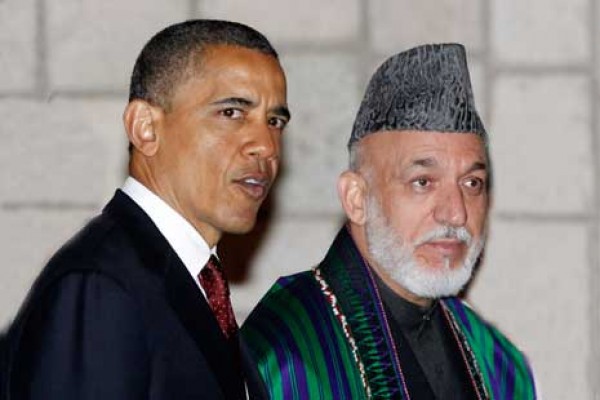 A thief and a murderer
There has been essentially no reason for US and NATO troops to continue occupying Afghanistan for quite a number of years now. You could tell this was the case by the convoluted and incoherent explanations of the "necessity" of that occupation from Washington. It was a simple calculation - the political risk associated with withdrawal has always been greater than the political cost of the occupation, so the President had no incentive to end US military involvement in that blighted country.
But now, things have shifted significantly. President Obama's political career is, for all intents and purposes, over. He'll govern for four years, and then assume the ex-President Statesman role that we like to bestow on our political leaders at the end of their tenure. Political "risk" takes on a more abstract meaning at this point, meaning risk to the party in general and its standing in Congress rather than direct political risks to the President himself. Additionally, underlying the predictable American apathy towards international matters is a pretty powerful drumbeat of disgust and dissatisfaction with America's great Afghan adventure, being, as it is, well into its second decade. Even Americans can see that there is no cohesive national Afghan identity, the government is weak and corrupt, the people tribal, unsophisticated and narrow minded, and that violence is a permanent, endemic feature of the culture. They see no reason for their country to waste lives and resources in such a place.
The risk was always one of a post-withdrawal terror attack on US soil or interests, leaving the President and his cabinet open to accusations of negligent weakness and unnecessary vulnerability. But between the soured public opinion and the President having already won reelection to his second term, he has a great deal more freedom to limit the US role and withdraw at least most of the troops than he did even just last year.
So what happens then? That depends on the strategies adopted by the US, and to a lesser degree, on those implemented by the Karzai government in Kabul. The US has a long term military interest in Pakistan, a much more dangerous Islamic global player than Afghanistan has ever been, so they will likely want to retain access to Afghan bases. For that matter, President Karzai cannot remain in office even for a month if he is abandoned by the Americans, so while there is a basis for a (fairly cynical) agreement between them, there is also the possibility that Washington would rather let Karzai fall and deal with his successor - depending, of course, on who that might be. There will be negotiations with the insurgent factions, including Mullah Omar's original Taliban, the Pakistani ISI and various Afghan tribal warlords who will want their seat at the table.
Sooner or later, however, Afghanistan will descend into a state of civil war, as shifting alliances and weapons flows are matched and countered. There will almost certainly eventually be a Pashtun Taliban-type government with strong Sunni fundamentalist principles and a powerful opposition led by the Dari-speaking tribes of the North. Assuming that something along those lines more or less comes to pass in the next couple years, the whole bloody exercise will have been for nothing, returning smoothly and without notable progress to the pre-2001 status quo.
Contained within the Afghan (and Iraq) debacle will be an important lesson about the limits of military power in a modern, globalized era. The US would be very well suited to keep her troops at home. It appears that at this point we've learned the lesson, but choose to implement it in a perverse and vile fashion. We'll keep the troops at home and murder foreigners in their homes and cars with lethal flying robots. Of course, I expect the backlash to that to be very unpleasant, so it might have a very short shelf life. Or it might be seen as the only solution to world full of lethal flying
enemy
robots. One probably should not indulge a particularly high set of expectations.
...