...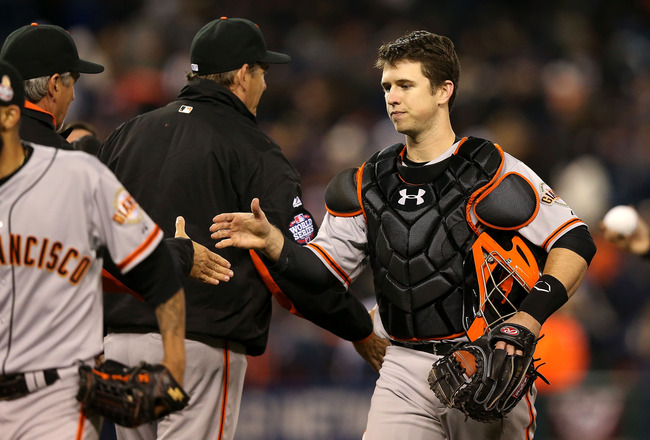 Oh. It's also helpful if the MVP plays for your team
One of the things that endlessly fascinates me is the human tendency to abjectly refuse to learn even the most obvious lessons. I was reminded of this oh-so predictable trait watching the almost mindless machinations of Major League Baseball since the end of the World Series. While there has been a certain rationality beginning to appear in free agent signings, it has manifested itself more in years than in dollars. That is to say teams are spending as much money as ever, if not more, on players they deem to be stars and superstars, they are just committing to them for shorter contracts. Age and injury history are being factored in in a way they haven't been recently - see the hesitancy to sign Josh Hamilton to a long-term contract and the Giants unwillingness to pay Brian Wilson until they know if he can ever pitch again.
But beyond that it's business as usual, even though business as usual can be seen, in the light of repeated history, as a failure. The Yankees outspent every franchise for decades, and yet have won only one World Series in a dozen years. Last year the Marlins made a huge off-season splash, and finished last in their division with an abysmal 93 losses. The Rangers built an offensive juggernaut and went to the World Series two consecutive years, without success. Now we see teams from Toronto, Cleveland and even the woeful Kansas City Royals desperately trying to make a push into the playoffs. And none of that even mentions the platinum-and-private-jet shopping spree of the Los Angeles Dodgers, expected to field a payroll of over $230 million dollars next spring.
Now this is understandable, at least in part, because the new structure has one third of all teams qualifying for the playoffs. The theory goes that all you have to do is get to the dance, and from there any team can get hot and be the first to win eleven (or perhaps twelve) games and bring home the trophy. But is it true? Recent history says it most certainly is not, that a collection of superstars doesn't make a team and a team built to win over the long, grueling 162 game season is poorly adapted to win in the playoffs.
Much could be learned from the recent success of the San Francisco Giants. The first key is the stadium. A winning team needs to play in a stadium with a signifcant, repeatable bias. That would either be a small, hitter - friendly park or a cavernous building that favors the pitchers. Then the management must be relentless in building a team that is complimentary to that specific park. Creating the conditions for a lopsided home record is the most controllable factor available to the team, and the teams that do it will have a measurable advantage. In addition, though it was obscured by a couple decades of widespread steroid use, offense wins games, but it does not win championships. There are always a few teams with mashers all up and down their lineups, intimidating hitters in every position, but they seldom win it all. Why? Because an overemphasis on hitting, especially power, results in a team deficient in defensive skills, and often means a neglected pitching staff, especially the bullpen.
And those two factors have once again become prominently necessary for a deep run in the playoffs. The Giants have been offensively challenged in recent years, but with their defense and bullpen they have a ridiculous record of winning games in which they score more than three runs. And in the post-season, a best-of-five and two best-of-seven series, it is all about pitching. Being able to keep the other team from scoring - allowing your team to be in every game late, when the weaker bullpen will very often give up the winning rally - is the formula for success.
So the formula is clear, even as it continues to be ignored or poorly implemented:
✔Build a team that is complimentary with your home park
✔Do what it takes to get a very GOOD catcher - this is the hallmark of most successful teams
✔Build around pitching. Develop a starting staff that can all give you 180+ innings, and put extra emphasis on the bullpen. Being able to put up zeroes for the last four innings will win more games than any other factor.
✔Pay attention to defense. Infielders who don't make a lot of errors and outfielders who can run down balls in the gap and make strong throws will quietly win a lot of games in the course of the long season. If the difference is between a .245 hitter and a .285 hitter, go with the healthier, better defensive player every time.
✔Coaches matter. Without Bochy and Righetti the Giants might not have had nearly the same success.
✔Chemistry. Over a long season, when hardships mount, little injuries nag, travel is endless and emotions ride a roller coaster, it's important to let the players create a sustainable environment. Don't worry too much if some of them seem wacky or serious or quiet, but do whatever you can to encourage them to bond with one another. There will come a point in the season when that bond is all they have left, and if it's strong, it can be enough.
* Refers to the drunk crawling around in the gutter - when asked by the policemen why he was doing so, he says he is looking for his keys. "Well, where did you see them last", they ask. "In the bar" he responds, pointing at an establishment down the street. Why isn't he looking for his keys in the bar? "The light's better out here", is the response.
...