...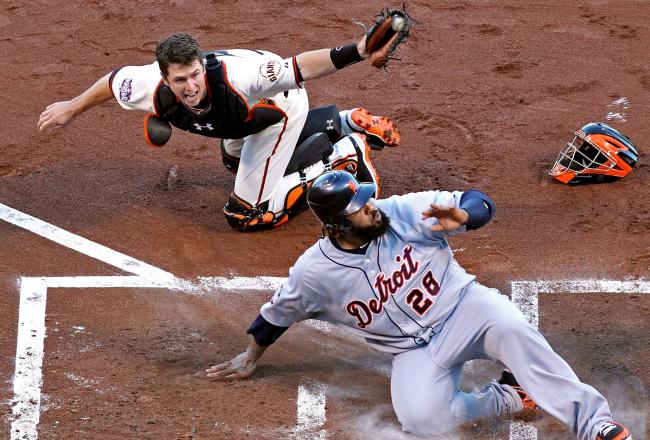 Got Heem
Sports is entertainment, nothing more, a metaphor for life's conflict and struggle, with outcomes that can be influenced, but never determined by the quality of personnel on the field. They amuse us, and give us an endless topic of conversation, structured as they are on a regional geographic tribalism that creates a kind of visceral loyalty that kings and gods can only wish for. For some, they become an obsession, occupying every waking thought, absorbing an irrational portion of the budget and determining their sense of happiness and well-being. Often they are built into legends and epic sagas, cautionary tales of loss and redemption and morality plays that seem to offer clarity in the choice between heavenly success and divine retribution.
Mostly, though, sports is entertainment, nothing more. But every now and then, like literature or poetry or theater, sports can offer us an important life lesson, a glimpse into those mystical core qualities that sometimes remind us that there are different kinds of strengths, and that, in spite of the world we have collectively built, there is still something noble and admirable in humankind.
The San Francisco Giants entered the playoffs in an enviable position, having clinched the NL West with more than a week to go, allowing them to set their rotation, rest their starters and open the series at home. But the Reds were a very good team, with powerful pitchers and lots of hitting, and there was much concern that they would be too much for the Giants. Sure enough, they beat the Giants in both of their home games - not closely, not by a little, but dominantly. Then it was off to Cincinnati, where the Reds next win would eliminate the Giants.
That's when it happened. "Reverend" Hunter Pence, one of the newest Giants, called his team together in the dugout before the game and with sincerity and passion and just a touch of madness told them he didn't want to go home, that he wanted to play with them just one more day. He demanded they "play for each other, that they win every moment, win each inning, it's all we have left".
Nobody really noticed the earth shift on its axis, and nobody watching from outside had any way to understand what had been created. But at that moment the 2012 San Francisco Giants went from being a pretty good baseball team to something much, much more. They became an unstoppable force, a team much greater than the sum of its parts, because they just didn't want to stop playing together, and they absolutely refused to let their teammates down. The Reds scored a run in the first inning, the Giants tied it in the third and from there, in a relentless battle of zeroes, the slow, ponderous tilt of history began. When the Giants finally scored in the tenth, then shut down the Reds to take Game 3, nobody outside the Giants clubhouse knew it yet, but at that moment the playoffs had ended. It was all over but the beer commercials.
The Giants dominated the last two games in Cincinnati to move on to the NLCS against the Cardinals. Predictably, the Giants found themselves down in that series 3 games to 1, facing another 3 elimination games. But this time was different. The dark clouds weren't so dark, and there was never a hopeless thought of going home after a successful if not great season. The Giants knew how to do this, and they had something almost magical, except it's not magic, it's something people have always known, a power that comes from a bond so deep it's indistinguishable from love, a knowledge that people fight harder for those next to them than they ever do for themselves.
Of course they won those last three elimination games against St. Louis, outscoring the Reds 20-1. Ho hum. And they entered the World Series an unbeatable juggernaut, all smiles and fun and the taste of blood on their lips. Poor Detroit. They never had a chance, there was no team, no matter how "good" they were, that could have beaten San Francisco in that series. The Giants dexterously handled the Tigers in a four game sweep, dominating with pitching, defense and timely hitting.
Thus endeth the lesson...
...